AGM 2016 Announcement
NOTICE OF THE ANNUAL GENERAL MEETING
NOTICE IS HEREBY GIVEN that the Annual General Meeting at Response Community Projects (Earls Court) Limited ("the company") will be held at
300, Old Brompton Road, London SW5 9JF on Monday 24th October 2016 at 7pm, everyone is welcome.

Donations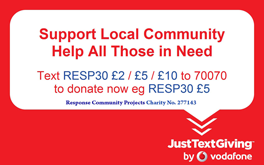 Response Community Projects relies totally on fundraising in order to continue its work.
Read More
Courses

We offer a variety of diverse courses tailored for everyone's needs; Training for the unemployed, elderly & entrepreneurs.
Services

We provide a hand/foot nail cutting service; low cost photocopying, Internet Cafe, and second-hand books.
Read More
Our Mission
Response is a community based centre that serves the needs of the communities most vulnerable individuals while also offering a range of classes designed to increase educational attainment and general well being.