Kids Fitness
and
Nutrition Club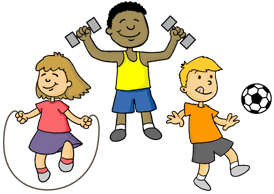 For more information contact:
Tel: 020 7370 4606
Email: info@responseprojects.org.uk

Young people, come workout and have fun while we learn about healthy food choices!
Regular exercise has lots of health benefits for children and young people, such as;
improving fitness

providing an opportunity to socialise
increasing concentration
improving academic scores
building a stronger heart, bones and healthier muscles
encouraging healthy growth and development
improving self-esteem
improving posture and balance
lowering stress
encouraging a better night's sleep

*1
Healthful eating has many benefits for children. It can;
Stabilize their energy.
Improve their minds.
Even out their moods.
Help them maintain a healthy weight.
Healthy eating habits are more likely to stay with you if you learn them as a child. That's why it's important that you teach your children good habits now. It will help them stick with these eating patterns.*2


*1 http://www.getactivesports.com/benefits-of-exercise-for-children/
*2 https://familydoctor.org/nutrition-tips-for-kids/
When
Starts: Starting back in April 2021
Day: Every Thursday
Venue: Response Homework Club, 300 Old Brompton Road, London SW5 9JF
Cost: FREE

Please Note: You do not need to book a place in the class just come along on the day wearing comfortable clothing.